KIND WORDS
Margaret is professional, patient, and amazing at what she does! On our trial hair and makeup I brought her several pictures of what I would like my hair and makeup to be and before we got started we discussed all the pictures I brought and talked about which style would look best for me. We decided on one style and Margaret made improvements to it to suit the overall look I was aiming for. If there is any hesitation then she would fix it until I was happy with the outcome. She is very experienced and I felt being taken care of the whole time. On the day of the wedding Margaret was early, quick, and made every effort to help calm my nerves.
I would highly recommend her to everyone!
Steph
From the first stages of planning the make up for our wedding Margaret was extremely accommodating. She drove out to meet me, do a trial, did my makeup and hair for my engagement shoot, and makeup again on my wedding day. She was punctual, efficient, and thorough taking just the right amount of time on every person to keep a very hectic morning moving along smoothly. I found it very professional how she kept in contact with us in the months, weeks and days leading up to the wedding, and created a game plan with the look we were trying to create, and executed it perfectly! From start to finish it was an absolute pleasure getting to work with Margaret and I would not hesitate to recommend her to anyone else who is looking for an amazing make up artist that truly knows what she is doing. Thank you Margaret for "making-up" such an important role in our day!
Thanks Bryanne Kipnes Photo Credit: Brad Hughes
Thank you so much for making me look perfect for my wedding day. You did such an amazing job on my hair and makeup.
It was better than I had ever imagined! You are such a talented,wonderful and genuine person and I am so glad to have met you. I really couldn't have asked for anyone better to make me look my best on my big day!
Monica
Margaret first did my makeup when I was a bridesmaid for my friend's wedding and she did such an amazing job that I knew I had to have her as my hair and makeup artist for my own wedding! She definitely did not disappoint. Not only is she a very talented makeup artist that makes you look gorgeous without making you look overdone, she is such a sweet and nice person. She makes you feel right at ease, which is especially important on your big day! She was easy to work with and get in touch with and everything I could have wanted for my wedding day. I would definitely recommend Margaret!
Sarah Ho
From the initial consultation, Margaret was extremely professional, talented and nurturing. She immediately put me at ease that my search for a make-up artist was over. Margaret was able to take the ideas we discussed and make it even more beautiful and I couldn't be any happier with how it all turned out.
I would happliy recommend Margaret and her team to anyone looking for a make-up artist. And I look forward to any future opportunities to work with her again.
Patricia Photo Credit: Cakewalk Media
Margaret was amazing on my big day - she started make up for myself, my 3 bridesmaids, my mother, and my sister at 5:30 am. She is truly a make-up artist who knows how to accentuate and highlight the best features of one's face. My make-up stayed on perfectly with only a need to touch up the lipstick/gloss (she gave me a little travel sized portion of the lip products used to carry with me) despite tears throughout the ceremony, summer heat, eating, dancing, until the party ended at 1:00 am. Margaret also did the make-up for my engagement shoot prior to the wedding. Thanks to her, I look flawless and beautiful in my wedding photographs as did my family and bridesmaids :)
Gloria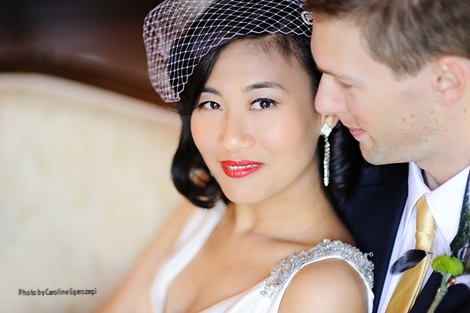 I am so thankful for Margaret Lai for my wedding make-up and hairstyling. I felt beautiful! My straight hair was styled and pinned into dramatic pin-curls and my make-up looked glamourous. Working with pictures of my dress, accessories and wedding decor, Margaret put together a complimenting vintage look that was exactly what I wanted. My make-up did not look heavy but instead focused on creating a flawless complexion. As someone who does not typically wear make-up, I wasn't sure what I
wanted for my wedding make-up, nor did I understand the effort required for a professional make-over. The consultation appointment with Margaret was informative and a great experience. She provided skin care tips and answered all my questions. She experimented with a number of ideas and colours starting with more muted colours and moving towards vivid colours. She asked me questions throughout the appointment to gauge my comfort level and documented all the details. I was also impressed with Margaret's make-up kit which is filled with an extensive collection of high quality cosmetics and supplies. Having numerous skin sensitivities, it was important to have no side-effects or skin irritation after the consultation appointment or the wedding.
I would happily recommend Margaret Lai to any bride.
Pei Pei Chu
Margaret, you were so great at setting us all at ease on what can be a stress filled day! Your confidence and expertise made Lauren, Annie and I feel completely assured that we didn't have to worry at all about our look! You made us all feel so beautiful that we were beaming and could enjoy ourselves so much in the moment. Margaret, you were quick to interpret what will look great as well as what would make me feel great as a mother of the bride! Thank you so much for your confident expertise which was so incredible reassuring to all of us and for joining with us in the FUN.
Love you girl,
Bonnie
Margaret is an amazing artist and person. From our initial meeting, I knew that we would work well together. She is organized, patient, and just has this positive energy radiating from her, which, on your wedding day, trust me, you want to have around. She was the first person that I saw on my wedding day bright and early at 6:30 am, and her presence and calming demeanor really set the tone for the day. I got so many compliments on my hair and makeup and I felt like a million bucks. You are in absolutely fantastic, capable hands if you hire Margaret for your big day.
Thank you!
O&S
One of the best decisions I made was hiring Margaret Lai as my wedding stylist. Margaret was extremely professional, skilled and had a calm demeanor which enables her to work with all different personality types. She adapted to last minute change of requests and went beyond what was expected. Without hesitation, I highly recommend Margaret's services for any occasion.
Judy L.
Thanks so much for your help on my big day! I was super happy with your help and really appreciate your attentiveness and time!
Take care!
Margaret Lai is an amazing makeup artist who makes everyone is she working with feel comfortable and look fabulous. She is truly a professional and has a passion for what she does. She goes above and beyond and I have always been more than satisfied when she has done my makeup throughout the years.
Gail Madanayake