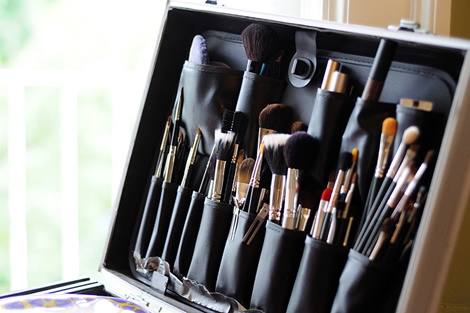 WHAT IS IN MY MAKEUP KIT?
All products in my kit are carefully chosen for their high quality. These days I am using a lot of GLO SKIN BEAUTY products, a makeup line specially designed for sensitive skin, and BECCA. Other favorite products in my kit are from MAC COSMETICS, LAURA MERCIER, MUFE, URBAN DECAY, and TARTE. For airbrushing, I use Temtpu foundation. I can offer different levels of coverage, deal with sensitivities and ensure long-wear. All makeup applications include false lashes and airbrushing option.
WHAT TO EXPECT AT A TRIAL?
My goal is to find the perfect palette of colors and combinations of products that will make you look your best. It is important to me that you are comfortable and your ideas are heard. Don't worry if you don't have any ideas! I am happy to offer my professional guidance. Bring your inspiration board and a picture of the dress (if you have chosen one). After we discuss what might work best, we try the makeup and hair step by step. Full bridal consultations can take up to two and a half hours. Notes and pictures are taken, and sometimes the hair can be re-styled (for an engagement shoot or a night out with friends or the fiancé).